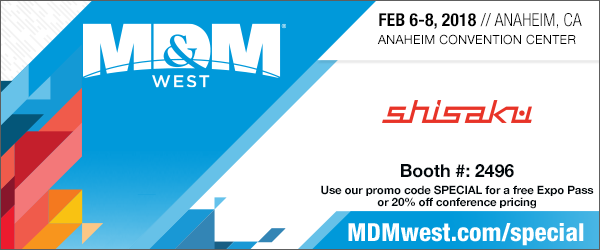 KYOTO SHISAKU NET will be participating in MD&M West, the annual medtech expo hosted by UBM held in Anaheim, California. MD&M West (Medical Design and Manufacturing West) is the largest showcase of medtech suppliers in the United States of America, with over 2,000 cutting-edge suppliers participating in this event.
We are showcasing; 3D mounting service, resin machining service, 3D heart & organ models, rubber products, thin sheet metal fins and metal machining service.
One of members of KYOTO SHISAKU NET, JOHNAN Corporation, will give a presentation on "MID and 3D Mounting Technology for Optimization of Product Design" at Tech Theater on Tuesday, February 6, from 2:30 pm to 3:15 pm (local time). Tech Theater will be held at Hall-E Booth: 637.
About Presentation: Click here.
We're looking forward to meeting you soon!